TOP OF PAGE
Bathroom
MIRROR IMAGE redefines any bathroom to a bathroom powered by ad notam. MIRROR IMAGE's wide selection of mirror and glass options as well as screen sizes gives you all the tools you need to create the right MIRROR IMAGE for you. The end result will seamlessly integrate into your bathroom décor, all while redefining its level of sophistication.
Custom engineered for the harsh bathroom environment, MIRROR IMAGE is protected against humidity by a special casing, and is explicitly rated for operation in the bathroom (IP X2 and IP X4 ratings).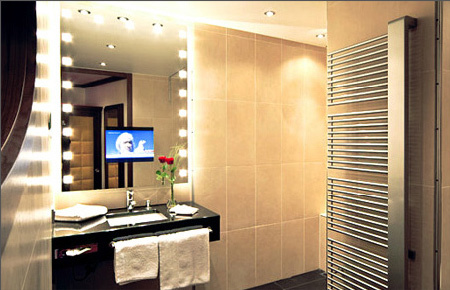 Bedroom
Like having the comfort of a TV in your bedroom, but dislike the intrusive cables and TV?
MIRROR IMAGE has a solution for you - the MIRROR IMAGE bedroom application conceals MIRROR IMAGE completely, visible only when you need it. Whether recessed into the wall, hanged as a picture, integrated into your bedroom furniture, or even part of a sliding door closet, MIRROR IMAGE will transform your bedroom into the sanctuary that you deserve.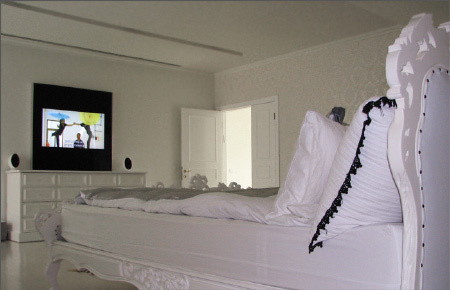 Living & dining room
Introduce a new dimension to your TV experience.
Get your latest news and entertainment in a most dramatic way. The living room application conceals MIRROR IMAGE, so that it is completely invisible when turned off, and present only when you need it. Consider the potential of elegantly blending the TV into your custom-designed living room space. MIRROR IMAGE can be recessed into the wall, hanged as a picture, or even integrated into the furniture.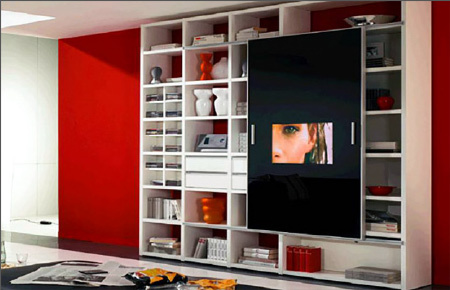 Kitchen
The kitchen is an ideal location for MIRROR IMAGE.
Hidden behind the kitchen backsplash or integrated into the kitchen cabinets it is protected against dirt, dust, and grease, easy to clean, and saves space. MIRROR IMAGE will transform your kitchen experience without altering your kitchen's design.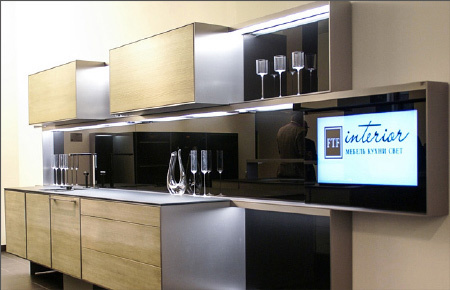 Fitness room
Work out with ad notam.
Fitness rooms are the perfect match for ad notam solutions. Have access to the lastest news, movies or TV gymnasticts - all while hitting form. With the ability to seamlessly integrate into your fitness room design, this innovative interior technology is that extra something that will boost your motivation to work out.
Where else a MIRROR IMAGE is more important than in your fitness mirror?