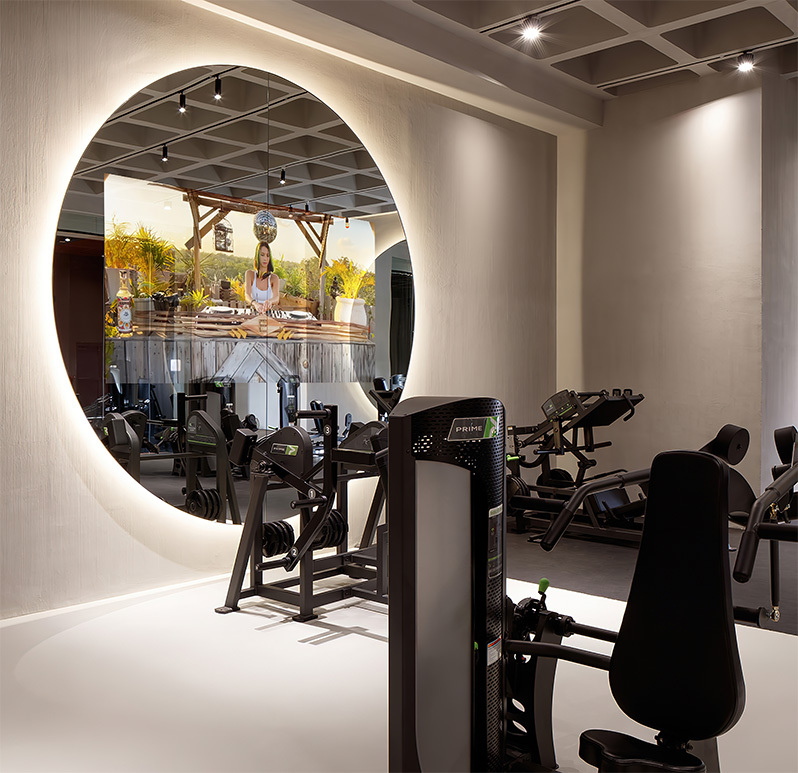 TV inside your fitness mirror
Work out with ad notam.
Fitness rooms are the perfect match for ad notam solutions. Have access to the lastest news, movies or TV gymnasticts - all while hitting form.
With the ability to seamlessly integrate into your fitness room design, this innovative interior technology is that extra something that will boost your motivation to work out.
Where else an ad notam display is more important than in your fitness mirror?
AI Interactive Fitness Mirror
Fully customisable and available in any size.
Being able to see yourself in the mirror, next to the trainer, practically guarantees correct form while exercising (for best results and avoidance of injury).
Users can choose from more than 50 different workouts. The duration of the available workouts varies from 20 - 50 minutes.
As an option the product can be equipped with a unique motion tracking technology.
The perfect solution for public area gyms in hotels or corporations, as no user registration is required and no data is stored.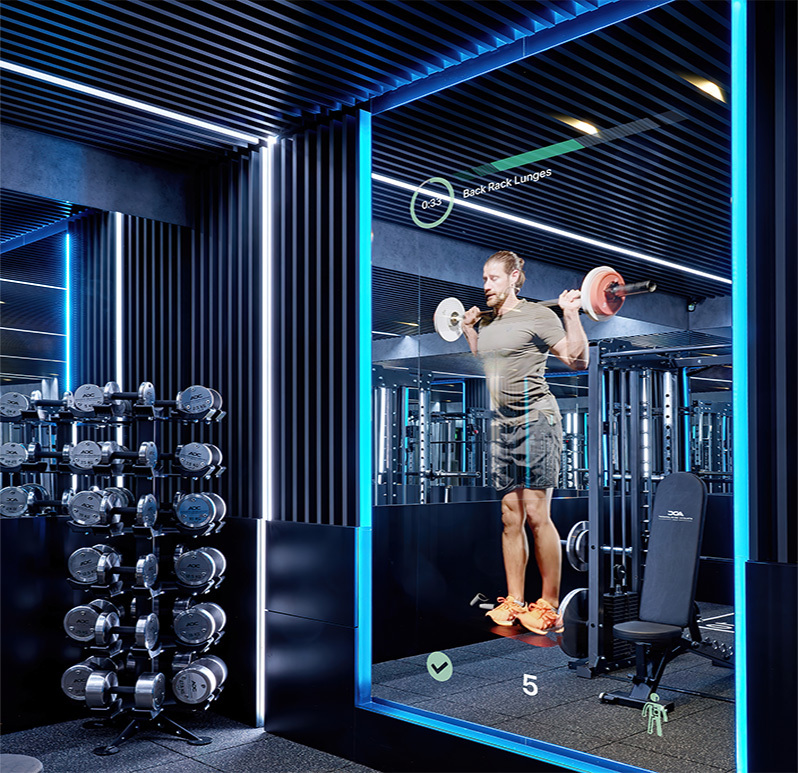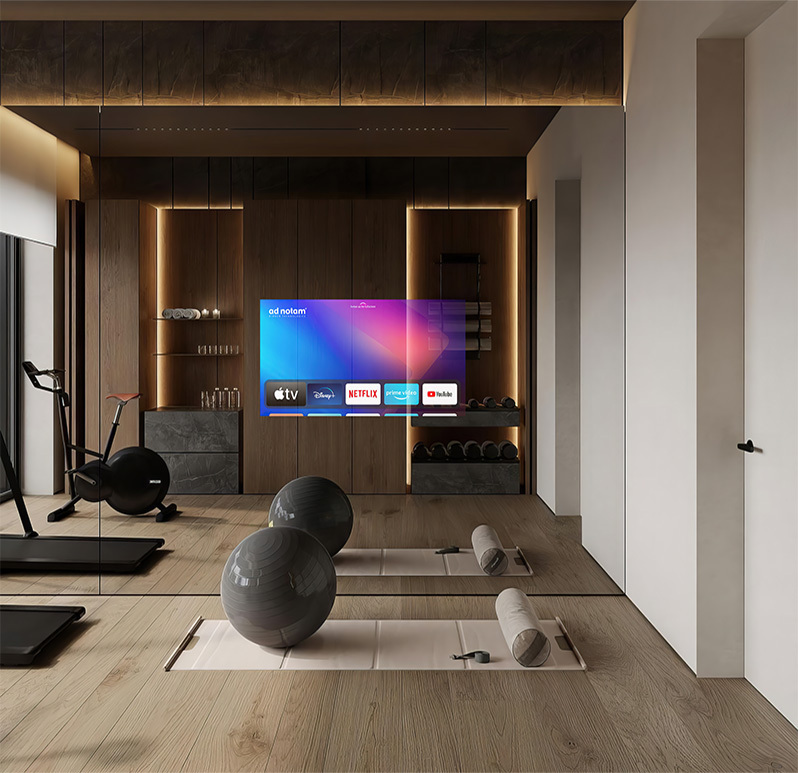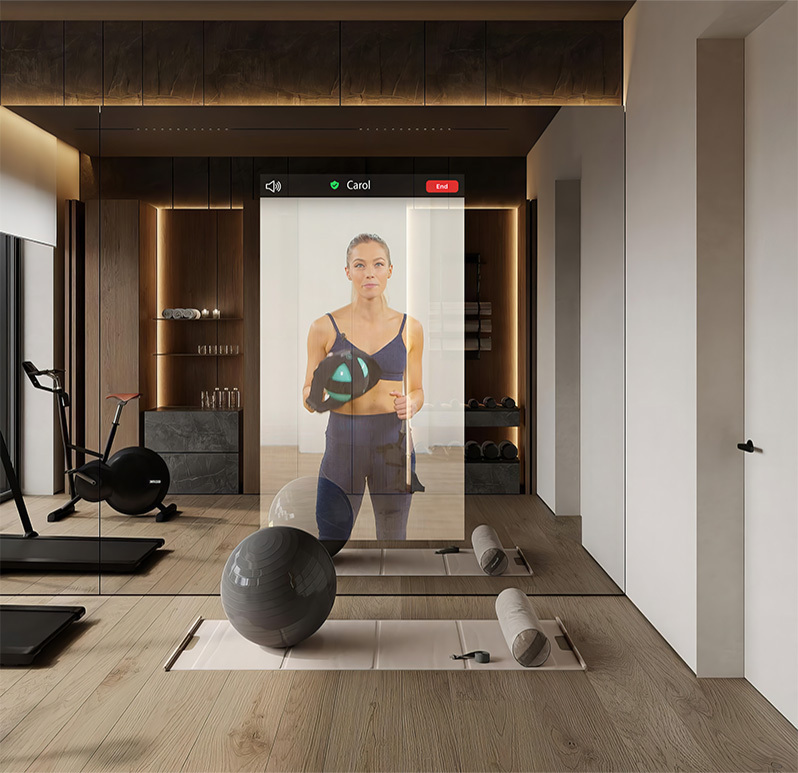 Personal Coach Mirror (2 in 1)
This product variant is the right product for you if you have your own fitness coach and want to train with him remotely via video call. You can easily join your trainer via Skype on the screen in portrait format.
The invisible camera integrated in the mirror surface and a room microphone make it easy to communicate with your trainer.
Additionally, you can switch the screen orientation from portrait to landscape if you prefer to watch TV instead. If you wish, you can switch between them using a touch keypad inside the mirror surface.
Fitness Program
AI Interactive Fitness Mirror.

Choose from over 50 different workouts including cardio & HIIT, yoga & pilates, core, mobility & recovery, stretching, foam rolling; trigger point & myofascial release, relaxation & meditation. The range of workouts available vary according to intensity, targeted muscles/body part and equipment necessary.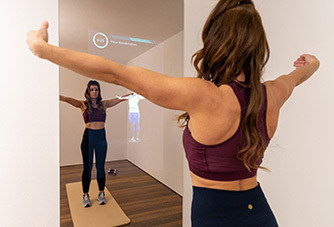 Motion Tracking
AI Interactive Fitness Mirror.

The product can be equipped with a unique motion tracking technology. So along with the trainer's prompts and cues, you'll also get additional feedback as the motion tracking camera counts your repetitions and tells you if your form is correct and on point. The proprietary AI tracks your movements using 16 datapoints on your body.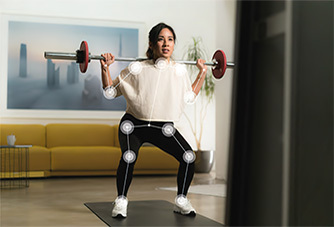 Mobile App Control
AI Interactive Fitness Mirror.

There is no app download or registration required. Simply scan the QR code to start your workout.

Thanks to the convenient smart phone control, the mirror surface remains always free of finger prints.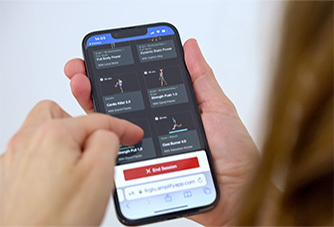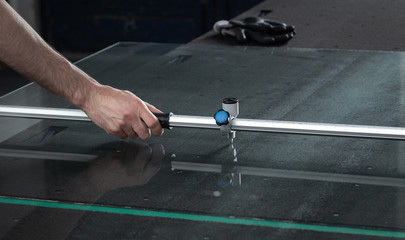 Made to measure
for perfect and seamless integration into your gym, our products are made to measure.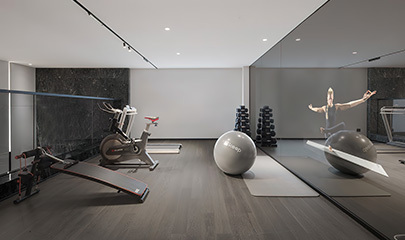 Matching Mirrors
If you wish to create a multi-piece mirror wall, you can order the matching side mirrors from us as well.
Warranty Upgrades
The standard warranty of 24 months can be extended up to 60 months.
Installations Options
Whether surface-mounted or flush-mounted, the appropriate mounting materials are included in the scope of delivery.
Flagship Project
Katara Towers, Doha, Qatar


We have delivered multiple 65'' and 86'' AI fitness mirrors for the gyms, VIP rooms and spa areas for one of the hotels in this prestigous project.


The towers' mild curves inspired by the crossed swords of the seal of Qatar, include more than 1,000 rooms and residential units through a six-star and a five-star hotel, branded apartments as well as offices, recreational facilities, high-end retail outlets and restaurants.


Completion Date: 2022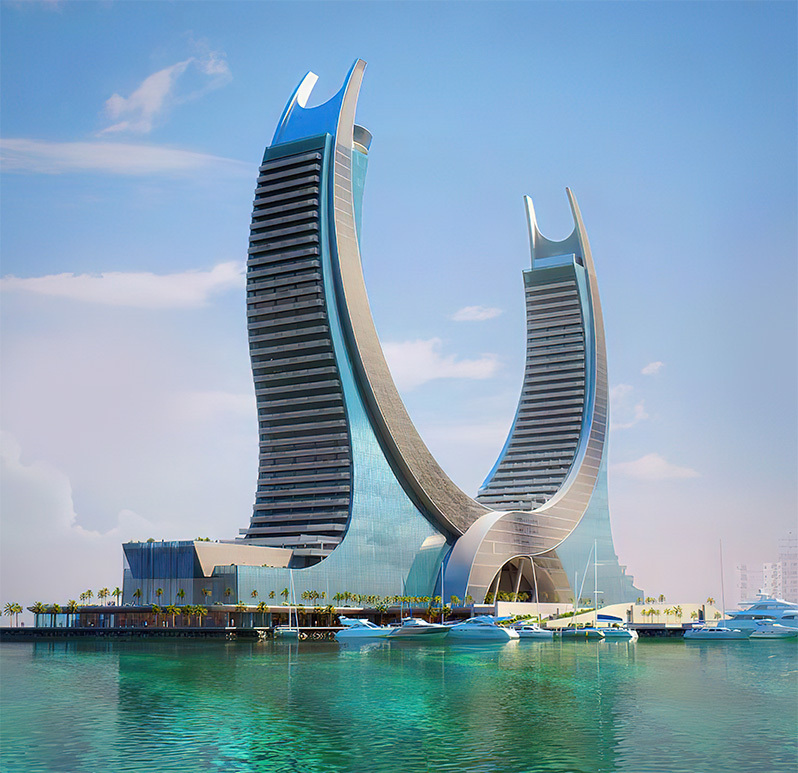 Model overview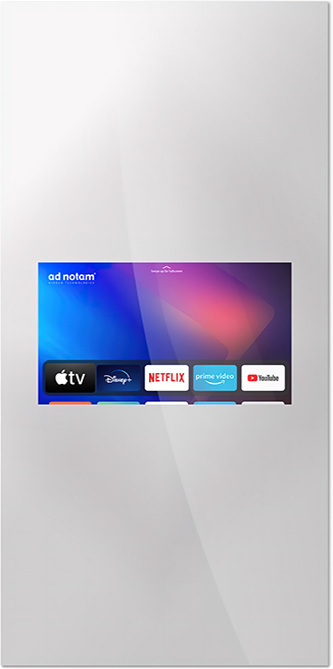 Fitness Mirror TV
Available display sizes:

32" | 43" | 49" | 55" | 65" | 75" | 86"

Display orientation:
Content options:

Apple TV (fully integrated control)
Fire TV (fully integrated control)

Mirror Options:

Crystal Mirror | Silver Magic Mirror
up to 3.150 x 2.000 mm Safety Glass

Other:

No integrated camera
No network connection required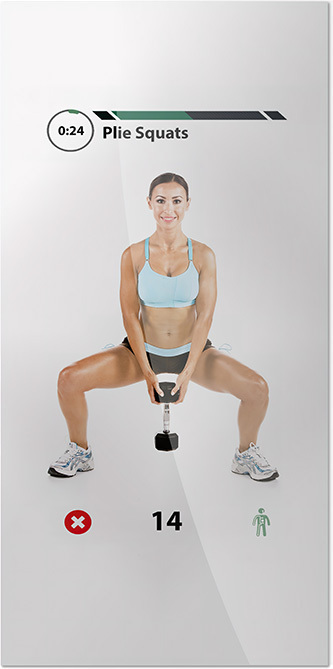 AI Interactive Fitness Mirror
Available display sizes:

 49" | 55" | 65" | 75" | 86"

Display orientation:
Content options:

50+ Excersises fitness program
Motion Tracking

Mirror Options:

Silver Magic Mirror
up to 3.150 x 2.000 mm Safety Glass

Other:

Integrated camera (invisible)
Network connection required (LAN or WLAN)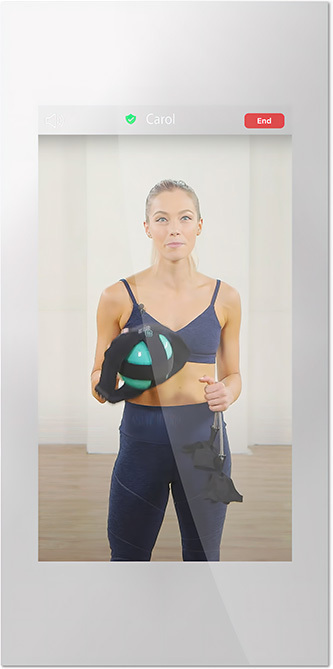 Personal Coach Mirror (2 in 1)
Available display sizes:

49" | 55" | 65" | 75" | 86"

Display orientation:

Vertical & Horizontal (switchable)

Content options:

Skype Video Conference (Personal Coach)
Apple TV | Fire TV (fully integrated control)

Mirror Options:

Silver Magic Mirror
up to 3.150 x 2.000 mm Safety Glass

Other:

Integrated camera (invisible) & microphone
Network connection required (LAN or WLAN)