TOP OF PAGE
Plug & Play as you shower
Enjoy your choice of screen entertainment or catch up on the latest news even as you have a relaxed soak in the bath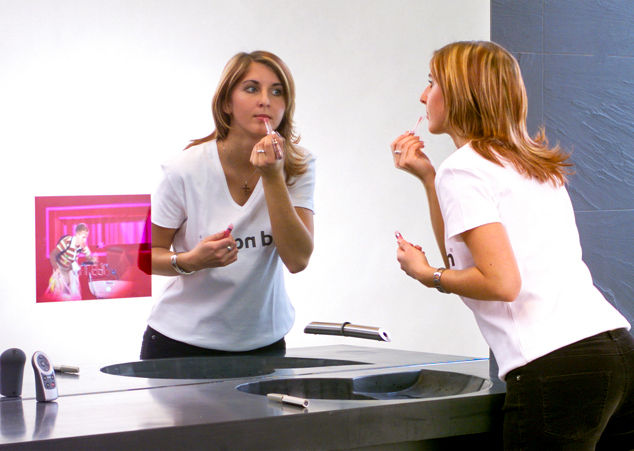 German-made and engineered to overcome the challenge of operating in ventilation-deprived and damp environments, the MIRROR IMAGE® line of bathroom products includes fully encased, sealed , low voltage consuming products ideal for bathroom and kitchen applications. It is also the only LCD which is factory calibrated to accomodate the challenges of displaying images through glass mediums. This allows for a limitless number of glass designs and customised installations.
The only limit is one's imagination. Many OEM customisations and integration into furniture pieces are also available.
Rated in European standards IP X2, IP X4 and IP X5, ad notam offers custom engineered units for use in wet areas. The MIRROR IMAGE ® screens offer surperior picture quality with a patented magnetic flush technology while maintaining optimum functionality.
These displays in the bathroom allow one, such as a fast moving executive who would need to check the market, to be connected to the world at the start of the day. These displays are perfect for entertainment during a treatment or while in a bath. The bathroom is another important space apart from the living room and bedroom to spend time.
For the customer who wants a simple solution, the complete plug and play option includes a mirror variety, an invisible glass speaker, fully integrated TV and mounting system for easy surface mounts and recessed-into-wall installations. The Bathroom Mirror TV TM offers traditional Mirror and Magic Mirror TM vanities, with optional halogen lighting for a smart art deco look. The TV completely disappears when turned off in the Magic Mirror TM glass. Both the screen and the glass are available in many different sizes and options. One useful option for existing tile environments is a wireless data transmission solution up to 300 feet. This is a great opportunity for a customer who wants to keep things simple.
Another solution for the bathroom is the new Bathroom Twister Line TM. This high-end product comes in 17" display and is available in traditional Mirror, Magic Mirror TM, black, and white glass. Bathroom Twister can be mounted on the floor and table-top, as well as a wallmount. It rotates 180 degrees. The Bathroom Twister Line TM offers a complete, stylised and flexible solution for your bathroom mirror, with a fully integrated TV screen and no installation hassles. Both the plug and play and fully customised options blend seamlessly into any bathroom interior, transforming this space into a highly connected entertainment environment.
Publication: ISH kitchen + bath Official Exhibition Supplement, May 2008